Townscape: Town Planning & Heritage Consultant London are pleased to have helped secure planning permission for this 5 storey residential development in Tooting, London.
We at Townscape acted as heritage consultant within the design team. We provided a detailed heritage assessment including statement of significance and heritage impact assessment in relation to the new build and the proposed designed new buildings impact upon adjacent listed buildings and conservation area.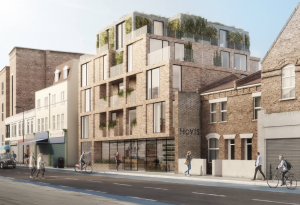 In addition, Townscape provided urban design advice to justify a 5 story building in a restricted height area. Townscape formed part of the principal design team and we were pleased to have worked with Zac Monro Architects and Rapleys .
We at Townscape concluded that the scheme will result in no harm and less than significant impact upon heritage assets and our view was supported by Council Officer.  Wandsworth council gave the planning application full support and commented on the overall design and how the scheme has been well informed to minimise its input on heritage assets.
Townscape are Chartered Town Planning and Heritage Consultants and we operate throughout the UK with a focus on the Northwest and London and the home counties.
We are an integrated town planning and heritage consultancy bringing together the true principles of informed planning advice on issues and buildings in relation to listed buildings, development in conservation area and all aspects of our built enviornment.
To discuss your town planning or heritage project, please contact Jason Kennedy on 01524 701537, email info@townscape.org.uk www.townscape.org.uk