Acting as Heritage Consultant Wales, Townscape helped secure planning consent for a significant industrial expansion in Denbighshire in North Wales.
Working in a design team with architects and Landscape Architects, Townscape Heritage Consultants provided a vital heritage impact assessment to enable successful planning permission for a 12.000sqm new food processing plant to be constructed.  The development site was an allocated employment site within Denbighshire Council local plan and the client is as existing successful local business seeking to expand its food processing operations.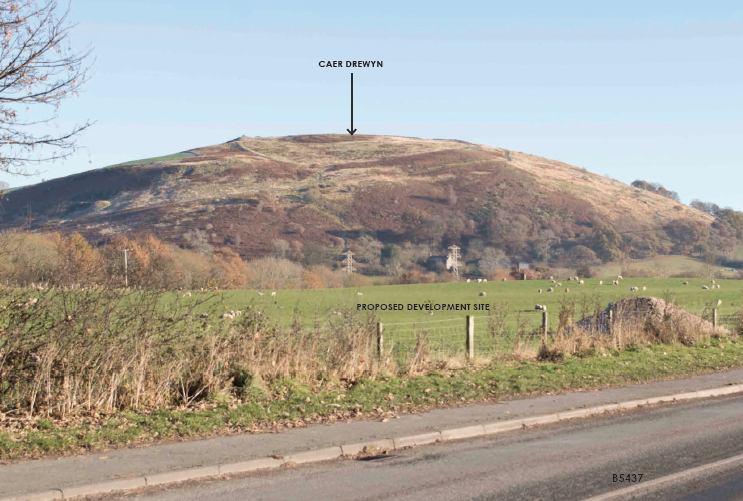 The development site was agricultural land, adjacent to an existing employment site and residential area on the outskirts of the thriving market town of Corwen.  The site is within the setting of Caer Drewyn, a welsh hill fort and a scheduled ancient monument.  Caer Drweyn  Hillfort dates from the iron Age and directly overlooks the River Dee Valley. Constructed in rubble, the ramparts to Caer Drewyn are still recognisable today and forms possible evidence to the early origins of the town of Corwen itself.
Our heritage impact assessment used a methodology of four key stages;
Step 1: Identify which heritage assets and their settings are affected
Step 2: Define and analyse the settings to understand how they contribute to the ways in which the historic assets are understood, appreciated and experienced
Stage 3: Evaluate the potential impact of a proposed change or development on those settings.
Stage 4: Consider options to mitigate the potential impact of a proposed change or development on those settings
The impact assessment includes an assessment of the effect of direct and indirect impacts, including physical changes, visual or aural impacts on individual heritage attributes, assets, and intangible associations.  Professional judgment has been used to evaluate the significance of effect.
Townscape are Chartered Town Planning and Heritage Consultants who serve public, private and community sector clients. We specialise in all aspects of our historic environment, heritage, town planning and wider urban design.
Townscape heritage consultants operate throughout the UK to include, England, Scotland, Wales, Northern Ireland and Republic of Ireland.
info@townscape.org.uk